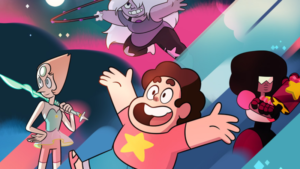 When my wife and I work around the house on weekends, we usually turn on the Cartoon Network. Most of the shows are the kind of programs where I think, "you know, I don't take recreational drugs, but if I did, I would be well served in terms of television."
This one show called Steven Universe seemed like just another wacky and surreal short program that was silly for silliness' sake. It was the story of boy named Steven who is being raised by 3 surrogate mothers (Garnet, Amethyst, and Pearl) who happen to be the Crystal Gems, magical guardians of the planet Earth.
But then, I noticed something as I carried the loads of laundry in front of the TV. There was an ongoing story that sometimes left you on a cliffhanger. Some of the jokes were powered by a mythology that was deep and consistent. There were also copious amounts of anime references.
So Sara and I started to recording episodes on our DVR and marathoning them at night. It's really one of the best shows on TV right now. Everything from the animation, to the music, to the voice work, is done with such care and attention. The songs are catchy and broadway quality, and the backgrounds are so beautiful that they should be illegal. I bow down to the staff's knowledge of anime. Most studios would throw in a couple of Akira references and call it a day, but the people behind Steven Universe draw from the entire history of the genre, with series such as Ogon Bat and the original Astro Boy.
The crowning achievement of Steven Universe's cultural impact is how they deal with relationships. It's like they've taken the innocent emotional conflicts of shows like Daniel Tiger and brought them into realm of high fantasy and science fiction.
I especially love how they handle the relationship between parents and children. In most television shows, parents either know what do or think they know what to do. In Steven Universe, the main character is a product of a human father and a mother who is a 5,000 plus year old Rock alien who doesn't exactly reproduce biologically. This means that Garnet, Amethyst, and Pearl, are like most parents. They are unsure of what's normal or healthy for a boy Steven's age, and many times there are just no right answers. The gems are often left to bicker among themselves, and in episodes like The Test, Steven figures out the answer for himself.
I think the time the series really grabbed me by the guts was in an episode called Rose's Scabbard. Pearl learned that her relationship with Rose, Steven's mother, wasn't what she thought it was. She ends up running away, and Steven almost falls to his death trying to find her on top of an island floating in the sky. This just puts her further into despair, and she asks herself, "What would Rose think of me now?"
Steven just gives her hug and says, "Well, I think you're pretty great."
I think every parent has felt that low. Parenting is such a great responsibility, that it seems like every child is the Child of Destiny.  And then, there are times when you fail. Sometimes you yell at them for no reason other than you've been stressed at work, or you let them get in trouble when you should've been watching. Sometimes it seems like the only thing separating you from your child is the height difference and the years of experience. Sometimes, even that doesn't seem like enough. Setbacks happen, hearts get broken, and you are just…you. But the one thing about parenting you can never prepare for is how much your children love you back. Sometimes it seems like that love is conditional. You might think that they just love you because you feed them, but you find out that it just doesn't work that way. You find that you love this child, they love you, and you are deserving of that love.
That's what Pearl experienced. That's what all parents experience. And that's why Steven Universe if my new favourite show.