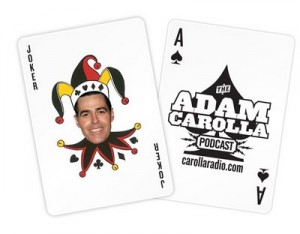 Adam Carolla of the "Man Show" Fame now has his own podcast after a "Complex business decision" cancelled his morning radio show. As the large media concerns run out of money, we're going to start seeing more and more experienced performers moving to where there's less overhead, less creative interference and less calcified power structures. The show has been running for about two months now, and it's easily the best podcast out on the net. Unlike most podcasters out there, Adam has had years to hone the art of talking into the mike. His shows rarely last more than an hour, there aren't any uncomfortable silences or peals of laughter long enough to drag the conversation down. Adam himself has a fairly blue-collar down-to-earth outlook on life, but he also respects intelligent people when he finds them. So far he's had people like Seth McFarlane, George Takei, and even Jack from Jack-in-the-box (or the actor who plays him. I'm not sure. The episode is so reality-bending it just has to be heard to be believed). All the while, Adam has given himself 10 months to figure out how to make a profit with his new podcast. He can't accept any kind of money while he is working on this new sitcom pilot for CBS. In fact, the podcast is costing him almost $5,000 a month in broadband fees.
That whole conundrum gives the podcast an overall story arc if you will, and the plot reminds me a little bit of Buck Rogers. Adam has emerged from the terrestrial radio time capsule into a world he doesn't exactly understand. For the first few episodes he was hanging on to some of the old tropes of radio, like "resetting", where they would re-introduce the guest they had on  for listeners just tuning in. However, Adam is determined to make it in this strange new world using his old-fashioned know-how and determination. With 5 shows a week, the podcast has a professional dependability you just don't see in other podcasts that miss shows, run too long, or just don't have Adam's comedic experience.
With daily downloads in the hundreds of thousands, there's no doubt the Adam Carolla podcast will turn a profit once it's allowed to. Adam still dreams of making his show subscription-based to keep the advertisers from meddling with his show, but I don't think he realizes how much the game has changed. With the universe of content options available out there, bloggers, web-comic artists and podcasters cannot make any compromises on their credibility. A motivated, trusting audience is irreplacable. If some ad rep tried to walk up to the Penny Arcades and the Cracked.coms of the world and say "Oh, I don't know, do you think you could be a little more edgy and youth oriented?", they'd get an intern to grab a bat tell them to get the hell out of the store.
The Internet has a ways to go before it's the center of all media, but it's so close you can smell it. When that happens you are going to see a new era of art and literature where no one gets to be a hit simply because they're on the big three networks or the Clear Channel. The people who focus on making their shows better than everyone else's will succeed. That's why I want the Adam Carolla podcast to succeed. Every medium needs it's juggernauts to motivate the smaller operations to create an entertainment universe with something for everyone, entertainers, audiences, and even sleazy ad reps.