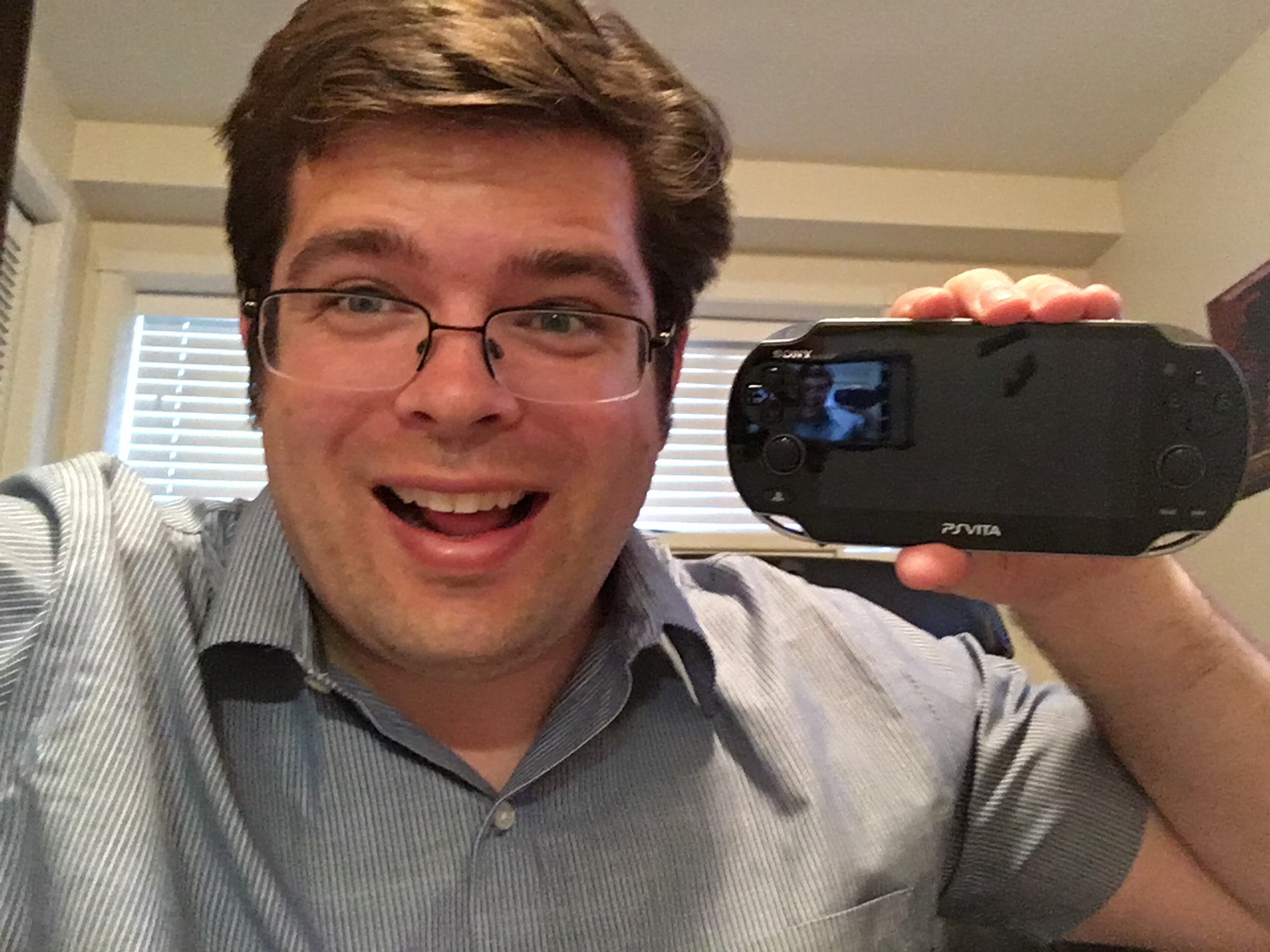 Sometimes I look at my video game collection, both real and virtual, and think that there is no possible way I'll be able to play all of this in my lifetime. I spent well in my youth, and now the years of combing bargain bins at the local Electronics Boutique has left me a virtual playground to rival Inception, the Matrix, and the Holodeck combined.
It was around one of those times that one of my co-workers mentioned she had a spare Playstation Vita lying around. I chuckled to myself, thinking that even if I had it, it would be YEARS before I could play games on it. Still, the months wore on, and that Vita was still available for a very reasonable price. So I thought to myself, I work hard, I pay taxes, I pull back into the slow lane on my morning commute. I need a symbol of my diligence, tangible proof that I can hold in my hands and then say to myself, "I contribute to society".
So I paid in cash, and now I have it! Even though it's officially a legacy platform in Sony's eyes, there are still a few games that I'm excited to play on it. Some of these are already out, and some of them will have to remain as japanese imports. I'm actually looking forward to putting down cash for some of these at a convention. So much more personal than online! Here are my top five:
5. Disgaea 3 & 4
I'm a strategy RPG fanatic, and the Disgaea series is one of the genre's 800 pound gorillas. In any given entry to the series, you lead an army of adorable demons in a dastardly plot to take over the multiverse. The characters use attacks like 10 person suplexes with damage counts numbering in the millions of hit points. There are so many ways to grind and level up your army. Even the weapons all have rogue-like dungeons inside of them where you can improve your weapon and your warriors. I will probably finish these games and make it to Disgaea 5 some time around the heat death of the universe.
4. Attack on Titan
The Titans of Hajime Isayama's manga are serious business. They are so tough, you would need an army of Ninjas- no an army of Spidermen-  no, Ninja-Spidermen! Luckily in you get to join this Ninja Spider-man army and defend Humanity from the ultimate in Fee-fi-fo-fum.
3. Berserk
When Koei Tecmo decided to make Dynasty Warriors, a game where you literally fight hundreds of enemies, it's hard to believe they didn't have Berserk in mind. There's nothing like taking a huge sword to mow down entire armies to take your mind off a day in traffic.
2. Macross Delta Scramble
The Macross Scramble series absolutely ruled on the original PSP. Since Macross Delta is still on the air, I hope the campaign mode is a little more involved. It's hard to get invested in the story if you are constantly reminded that it's just a simulation.
1. Super Frickin' Robot Wars
This game series is the my chocolate and peanut butter. You have every giant robot series banding together in a loosely plotted cross-over scenario to carry out the most ridiculous attacks in a scenario that is…well…a battle royale would not even begin to describe it. In this latest installment, Super Robot Wars Victory, Space Battleship Yamato is getting a special guest appearance, fighting alongside the Mobile Suits of Gundam, Macross' Valkyries, and so, so, many others. It is pure madness, and it's also getting an English translation! I'm freaking out here!