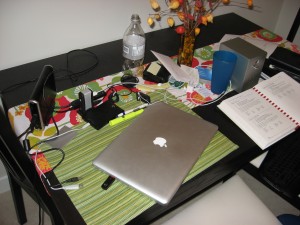 Hey, I've been busy.
This past month I've been hard at work on the business plan my new company, V2S Web Design. It was a lot of hand-wringing, hair-pulling and a final realization that a business plan is NOT a university English paper. I made my presentation to the Fraser Valley Self-Employment review panel, and they approved. I get to continue running my business with their support. Go me!
The V2S website has also launched at www.v2swebdesign.com. It's pretty basic for right now, but soon it's going to have a weekly blog containing tutorials and articles about what I do and what my work can do for my customers. I'm also going to be teaching a day-long workshop about websites in the new year with Blair Campbell of RankAhead.ca. I had pitched the idea of using workshops to market my services, and for some reason the Self Employment Program got really excited about it. Keep an eye on this space and I'll let you know how it goes.
I'll keep up with the old blog as much as I can, but I've decided I should actually give it a focus now. It'll still be my personal blog, but it is now the personal blog of a small businessman trying to make his way in the harsh business landscape of the Fraser Valley. I've become a bit of a student of making money in recent years. In between jobs I was always reading career books trying to figure out what went wrong with mine. I found a culture that wasn't so much concerned with CYA policies and corporate servitude as it was with courage and hard work. I'll be talking to people who've made their way in the province, as well as up and coming entrepreneurs. It won't just be some chirpy shrine to capitalist success either. I'm going to explore failures too – my own and those of others.
I find it kind of strange to be doing this. I'm kind of creating multiple public identities. One for V2S Web Design, where I talk about the things I know or have researched thoroughly. The other one is for James-Strocel.com, where I try and talk about the things that I don't know, or that I'm still exploring. I wonder, which identity will people accept as real?