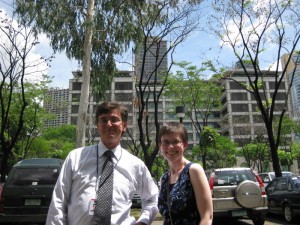 Once Sara and I had adjusted to the time zone a bit, Sara's Uncle Don took us out for lunch at the Asian Development Bank where he works as a lawyer. The ADB makes their business by helping Asian governments finance public works projects, like dams and bridges. The head office seemed more like a self-sufficient compound than anything else. There was a full-service garage with a gas pump, and the company store shipped in groceries from anywhere in the world for their international team of economic hotshots. The restaurant had a piano player and made quite the fine steak. From there we drove to Don and Judy's house in the suburb of Ayala Alabang.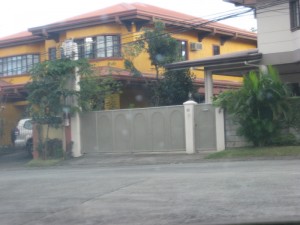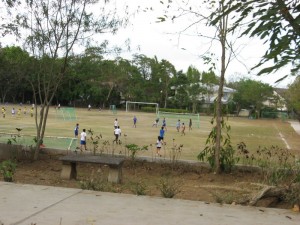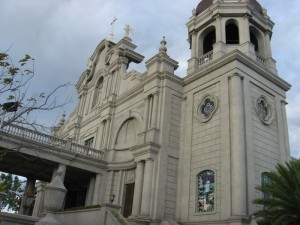 Aside from the Spanish colonial architecture and security checkpoint, Ayala Alabang looked like a pretty normal gated community. There was a church, a community field, a country club, and even a small convenience store. The neighborhood is home to quite a few expatriates, as well as the staff that maintains all the houses. The wages in the Philippines are as such that houses like these will employ cooks, housekeepers, gardeners, or combinations of all three. Don and Judy's house was no exception. They had a gardener named Nestor, a cook named Natty, and a housekeeper named Anning.
Now, if you know Don and Judy, you may have heard of their three boys, Simon, Noah, and Jonah. They are fraternal triplets and are 10-years-old as of this writing. They are very intelligent and inquisitive. They go through books like nobody's business, and I think they came up with a plan to buy an iPhone through buying and selling beanie babies after I showed them my own device. Since Judy is trained as a teacher, she home-schools the boys in a small classroom in the second level of their guest house where Sara and I got to stay.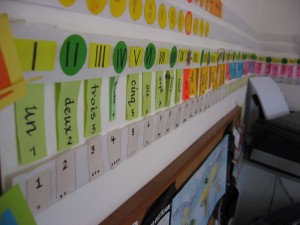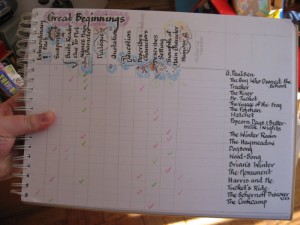 Channeling my 10-year-old self, I thought it was very cool. Everything was very hands-on. They had charts to count in English, French, Roman and Mayan. For projects they completed relief maps of Africa and clay models of human skin layers. The construction of their tree-house was used to teach geometry. My personal favorite was their comparative novel studies. Simon, Noah and Jonah go through so many books that they were able to follow authors like Gary Paulsen, and made charts of all the similarities and differences between their novels.
I must say Sara and I never ate as well during the whole trip as we had when Natty was cooking. For dinner there was food like stuffed peppers, chicken stir-fry wrapped in banana leaves, and curried beef. Breakfast included waffles, french toast, bacon and eggs. Sara and I should e-mail them for some recipes. However, I doubt we'll ever get the presentation right!