You could almost drink the air. We flew Japan Air Lines. We arrived under the cover of night so we could see that the moon was a different shape. Customs and immigration were surprisingly laid back despite the "Death to Drug Traffickers" stmped on the customs slip. My friends and I tend to talk about how Canada and the US are different as we go back and forth. The philippines took those differences and multiplied them by a million.
Sara's Uncle picked us up at the airport and took us on a harrowing chase through the streets of Manila. The architecture was a lot like the driving, accomplished with creativity and daring. Ragtag slums were punctuated with gigantic buildings of every shape and color, like an architect's playground. A tremendous highway project lay dormant after accusations of graft during its construction. It seemed that no matter what people did here, no matter what obstacles they faced, they always managed to inject a little color and grandeur into the situation. It was a go-with-the-attitude married to the flamboyance you find in tropical places. After a while, we finally arrived at the Edsa Shangri-La Hotel in Downtown Manila. Sara's Aunt and Uncle had put us up there for two nights as a honeymoon gift.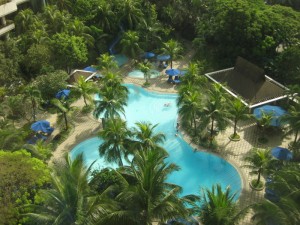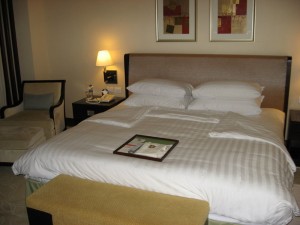 To start with, the hotel was utterly palatial. Giant marble columns gave way to wide palm fronds by the side of the pool. Our room overlooked all of this with a King-sized bed and two flat screen tvs. Sara and I had been to a Hilton or two in the past, but the service was unlike anything you would see in a Canadian Hotel. The staff would say Hello to you by name if you walked by. Sure, there were guards at the entrance, but their presence felt more like a courtesy than an imposition. This got me to thinking, is anyone served by presence of the gruff security detail? Now, I realize that Sara and I probably did not fit the profile of the people who wished to do ill to the hotel, but if someone was determined to do such things, is a stern grimace going to be the final straw that turns them back? In my opinion, a more relaxed hooligan would be more likely to inadvertantly reveal his intentions, and a frightened innocent would only provide a false lead and waste everyone's time. Any thoughts?