One thing I simply had to do while in Japan was ride the bullet train. One of the places Sara simply had to visit was Kyoto. Fortunately, we were able to combine the two when we took a 2 and a half hour train ride to Kyoto.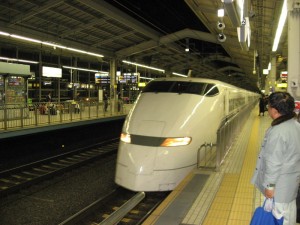 We rode the Hikari train, which runs at a top speed of 285 km/h. Sara didn't think it went too fast, but in her defense, the ride was so smooth you couldn't really tell. I took some video out the window of us going top speed.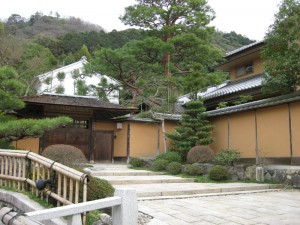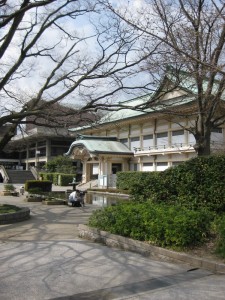 Kyoto wasn't bombed in the second world war, so many of the ancient temples and older buildings were still standing. Kyoto was still a huge city, so we could only see a couple of key places. Sara and I decided to see the Kyoto Craft Center and take the Philosopher's way to the Ginkaku-ji, or Silver Pavilion.
The Craft center was over 6 floors of traditional Japanese Crafts. There was jewelry, lacquered dishware, and even Samurai swords for sale. It was really geared toward tourists, but the salesmanship was so classy that you didn't feel put upon to buy anything. Sara and I got a lot of souvenir shopping done nonetheless.
We made our way through the back streets to the Philosopher's way, which is a cobble-stone path running along a small canal where there were shrines that were hundreds, if not thousands of years old. Kyoto as a whole was a lot more laid back than the slick neon head-rush of Tokyo.  The path wasn't exactly straight, nor was it exactly winding. One could really get a good think in without any turns to interrupt you or too many straight lines to bore you.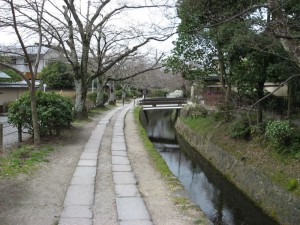 At the end of the path was the Ginkaku-ji. The Shogun Ashikaga Yoshimasa built the temple in the 15th century as a place of rest and relaxation. I'd say he succeeded. This is what world-class serenity looks like.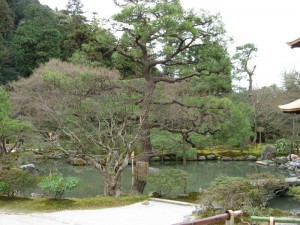 Once we finished at the Ginkaku-ji, we headed back to the Heian Shrine. It was built in 1895 on the 1,100th anniversary of the city. It wasn't as old as the other temples, but it was certainly the largest that we had seen yet.
We spent the whole day trying to cover the city, but by the time we were finished at the Heian Shrine, it was already time to go home. With so much more of Kyoto to see, we'll definitely spend more time here when we come back to Japan.